The Oil Xtractor-Kit "Great for Cars, Boats, and Motor Vehicles" 12V/24 60W
Regular price
$92.99
Sale price
$55.99
FREE SHIPPING WORLDWIDE ABOVE $40
---
DON'T YOU HATE THIS!  TIME-CONSUMING AND MESSY?

The Oil Xtractor-KIT™ Oil Change Pump makes it fast and mess-free to change the oil in your car, motorcycle, boat, jet ski, and more!

CHANGE YOUR OIL IN JUST A FEW MINUTES!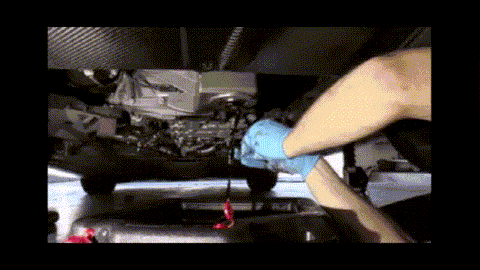 PROBLEM SOLVED!

😍 HERE'S THE BEST TOOL FOR CHANGING YOUR OIL IN YOUR VEHICLE 😍QUICKLY AND EFFICIENTLY AND WITHOUT THE MESS.  GREAT FOR ANYONE AND ANY VEHICLE.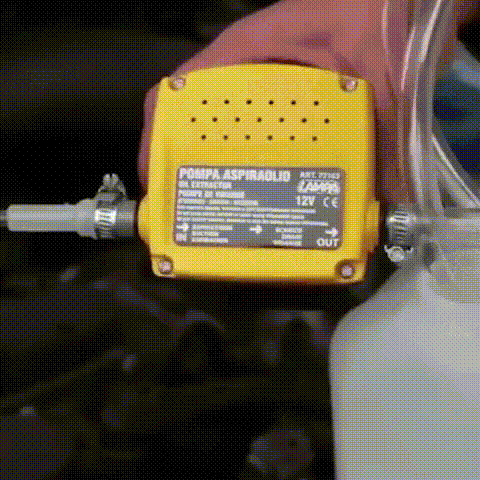 Oil changes don't have to be difficult, messy, and time-consuming. Are you tired of this? Not anymore!

This Pump is a great way to extract motor oil from a wide variety of motor vehicles!



Very Simple and You Can Do It By Yourself!

INSTALLATION INSTRUCTIONS
Turn off your engine and remove the oil cap.
Place the inlet hose into the engine's oil reservoir.
Place the outlet hose into an empty bucket.
Connect the positive and negative power clamps to the car battery.
Press the power button to turn on the oil pump.
The fast oil change pump will fix all of these frustrating problems with oil changes. There's no need to lift your car on jack stands because this pump transfers oil right from under your hood!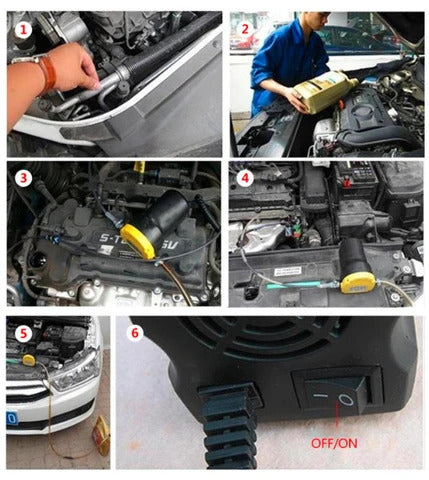 It's simple, convenient, and cost-efficient! This pump is a great way to extract motor oil from a wide variety of motor vehicles! The oil extractor works by connecting the clamps to the 12v or 24v battery. 

The oil is simply drawn out of the motor through the oil outlet tube. The oil-extractor is suitable to pump engine oil, diesel, and heating oil. You can take it anywhere discreetly without having to worry about clearing up space in your car. Whether you are going on a trip or just need it for an emergency oil change, the pump is there with you!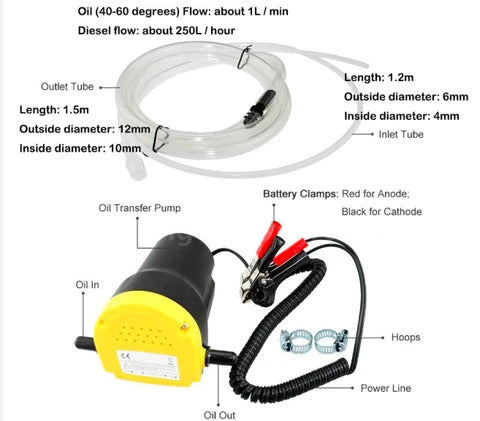 SPECIFICATIONS
Dimensions: 5.1 x 5 x 3.3" / 14.1 x 8.3 x 13 cm
Input Voltage: 12V DC
Rated Current: 5A
Sound: 70 dB
Vibration: Less Than 2.5m / s2
Maximum Flow Rate: 1.5 L / min
Maximum Delivery Height: 2.3 ft.
Crude Oil Flow Rate: Approx. 250L / hour 
Line Length: approx. 71 cm / 28 in

Package Included:
1 x Fuel Transfer Pump
1 x Outlet Hose
1 x Inlet Hose
2 x Hose Clamps
2 x Battery Clamps
*Free Shipping Included*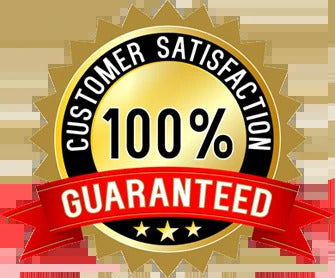 OUR GUARANTEE
We truly offer the best and hottest highest-quality products in the world.
We will do WHATEVER it takes with outstanding customer service support to assist you as we highly value your satisfaction with absolute ZERO risks.
 We make sure that every customer is 100% satisfied in every aspect with 24/7/365 FAST SUPPORT!
Everything you need to know about the shipping and Insurance
When we ship, we use the most affordable courier services.  Also, we pay the additional Insurance fee to ensure the safety of your purchase in transit.  

Just as we purchase Insurance for our houses or cars, protecting your package is beneficial and gives you peace of mind regardless of the types of items you are ordering.  You can worry less about any issues that may occur as we have protected you in all aspects.
Approximate Delivery Time
Standard shipping takes 7-20 days depending on your location and custom's clearance—this product ships FREE of charge,  using the most economical way for delivery.  Due to Covid-19, our shipping agents are experiencing slight delays, which may range from 2-7 days.  We appreciate your patience during this worldwide pandemic.